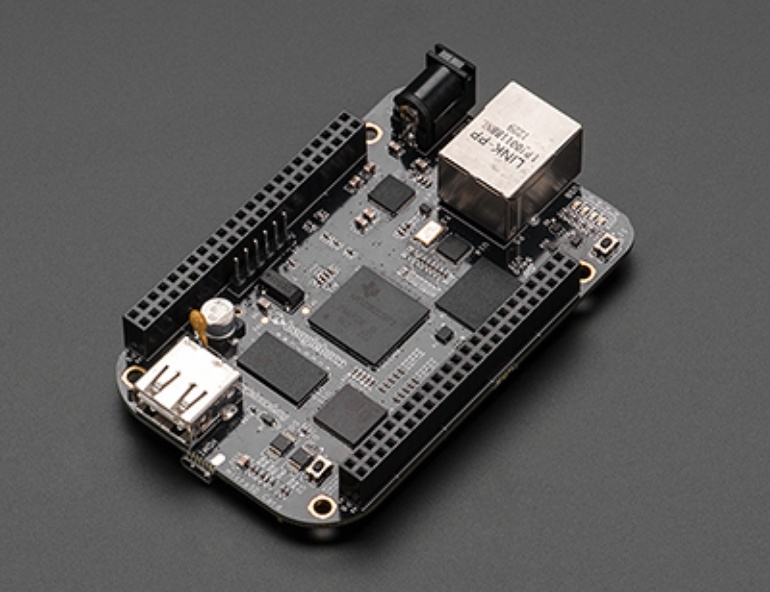 Beagle Bone Black and ROS Training Session Course 201
Beagle Bone Black (BBB) is a great way to begin using ROS for any size Robot project. Since ROS is a messaging / distributed based architecture, 4 Beagle Bone Blacks can make a very inexpensive, low power, yet powerful robot system. We have designed a class to get you past the steep learning curve so you can start using your BBB and ROS effectively. This course will focus on basic IO, motor control and switch sensing. At the end of the class you will have:
A working BBB running the latest ROS
A reference BBB interface for a 2 motor controller (we will be using LEDs instead of motors)
Your laptop running ROS via a virtual machine
Included in the fee:
We provide the reference motor controller, bread board, LEDs, switches, jumper cables
USB drive with software, reference design, documentation, homework, examples for other interfaces
Coffee, Lunch, Snack Break
Not included, you need to bring:
Beagle Bone Black with 4Gig SD card and power supply
USB cable that comes with the BBB
Laptop with VirtualBox installed and power supply
COURSE OUTLINE
Setup and Configuration:
Get you connected to your BBB via your Laptop, install drivers and best practices
Provide you with a working Angstrom build with the latest ROS Hydra implementation on your BBB
Show you how to install the Angstrom build with ROS image onto your BBB
Show you how to test the installation and then how to configure start up and networking on your BBB
Guide you through all the steps to configure and launch ROS on your BBB
Show you how to keep your BBB software up to date
Interfacing with the Real World:
Show you how to create, build, install and test a simple 2 motor control to your BBB (we will be using LEDs instead of motors)
Show you how to connect the motor controller to ROS and really get into using ROS
Using ROS:
Create the ROS Motor controller parameter files and then a sample movement file.
Show you how to have ROS load the movement files and then how the Motor Controller parameters effect the movement of the Robot. (watch the LEDs)
Use ROS publish and subscribe
Show how to add additional sensors to control your robot (we have 4 switches)
Connecting to ROS:
Create a virtual machine on your Laptop using VirtualBox /Ubuntu 13.0.4/ ROS Hydro
Use your laptop to be a secondary ROS node to show how to distribute the ROS work load
Show you how to tele operate your BBB Motor controller from your laptop
Bonus:
Links to additional resources. Books, Tutorials, Website
Show you how to use the ROS answer site
Access to ROS-training.com user forum and software repository
Notes:
Typically we will have limited internet connectivity, so come prepared.
We provide wireless access to our setup and build server, but no proxy to the outside world.
Register Today, Space is Limited
Tickets at EventBrite
,Learn to use ROS with your very own Beagle Bone Black!
This course is offered on April 26th, 2014.
Class begins promptly at 9:15 AM and ends at 5:30 PM.
Please be on time to allow us to begin as early as possible.
---
Location:
Hacker Dojo -- The Classroom
599 Fairchild Drive
Mountain View, CA 94043
Tickets can be purchased through Eventbrite
This course costs $85.00.
---
Back to Courses